A female DJ, lesbian, Muslim and a second-generation German born to Turkish parents.
With Tokyo Rainbow Pride 2017 on the horizon, preparation for the parade and events surrounding the day are well under way. This year, the German Embassy in Tokyo has invited special guest DJ İpek to take part in a number of events. As a proactive representative of a number of minority groups, the successful German-Turkish DJ will be sharing her insight into LGBT, immigration and identity. Letibee will have the pleasure of interviewing İpek during her stay in Tokyo so we'd like to start off with an introduction to this inspirational woman's life up until now.
While the title 'DJ' certainly doesn't conjure up images of the conventional type, there is one DJ that is managing to break boundaries in the already progressive music world. İpek İpekçioğlu, most commonly known as DJ Ipek, was born in 1972 in Munich and has become a well-established house name on the Berlin music scene in recent years. Described on her website as EthnikFolkElektronikMix, DJ Ipek's music is hard to categorise, which acts as an apt metaphor for her own diverse roots and her questioning of identity.
Initially recognised for the social-political themes that pepper her lyrics, DJ Ipek has since become known globally, making herself heard through more than just the banging speakers. İpek now takes advantage of her esteemed reputation as a DJ to engage with minorities, many of which she identifies with herself as a female DJ, lesbian, Muslim and a second-generation German born to Turkish parents. Based between Berlin and Istanbul, DJ Ipek utilises music to inspire and empower people of different sexualities, races and backgrounds.
İpek plays an active role in the LGBT+ community with her engagement stemming from her Social Pedagogy diploma, which she completed in 1997. The title of her thesis was "Lesbian and Turkish! A contradiction?" in which she focuses specifically on second-generation Turkish lesbians. Later, İpek also founded the society GLADT (Gays & Lesbians aus der Türkei e.V.), a group for LGBT Turkish people living in Germany. She later helped to publish essays and a book on issues of identity.
Not just limited to research, İpek runs a proactive DJ workshop called Hybrid Identities which is aimed at queer individuals and minority races. Hybrid Identities is a workshop-come-performance that combines DJing, performance and spectator participation. This unique event includes a screening of TransidentPolitix, a short film created by İpek which follows the story of three queer individuals living in Istanbul.
Working as a music producer, curator, freelance writer, event manager and activist, İpek never seems to be short of ideas. She has recently travelled to the US and Canada as curator and director of the CrossKultur-Festival, as well as filling the role of patron for Schools without racism – Schools with courage. Her interests also span to gender equality which has encouraged her to get involved with the female musicians network female:pressure.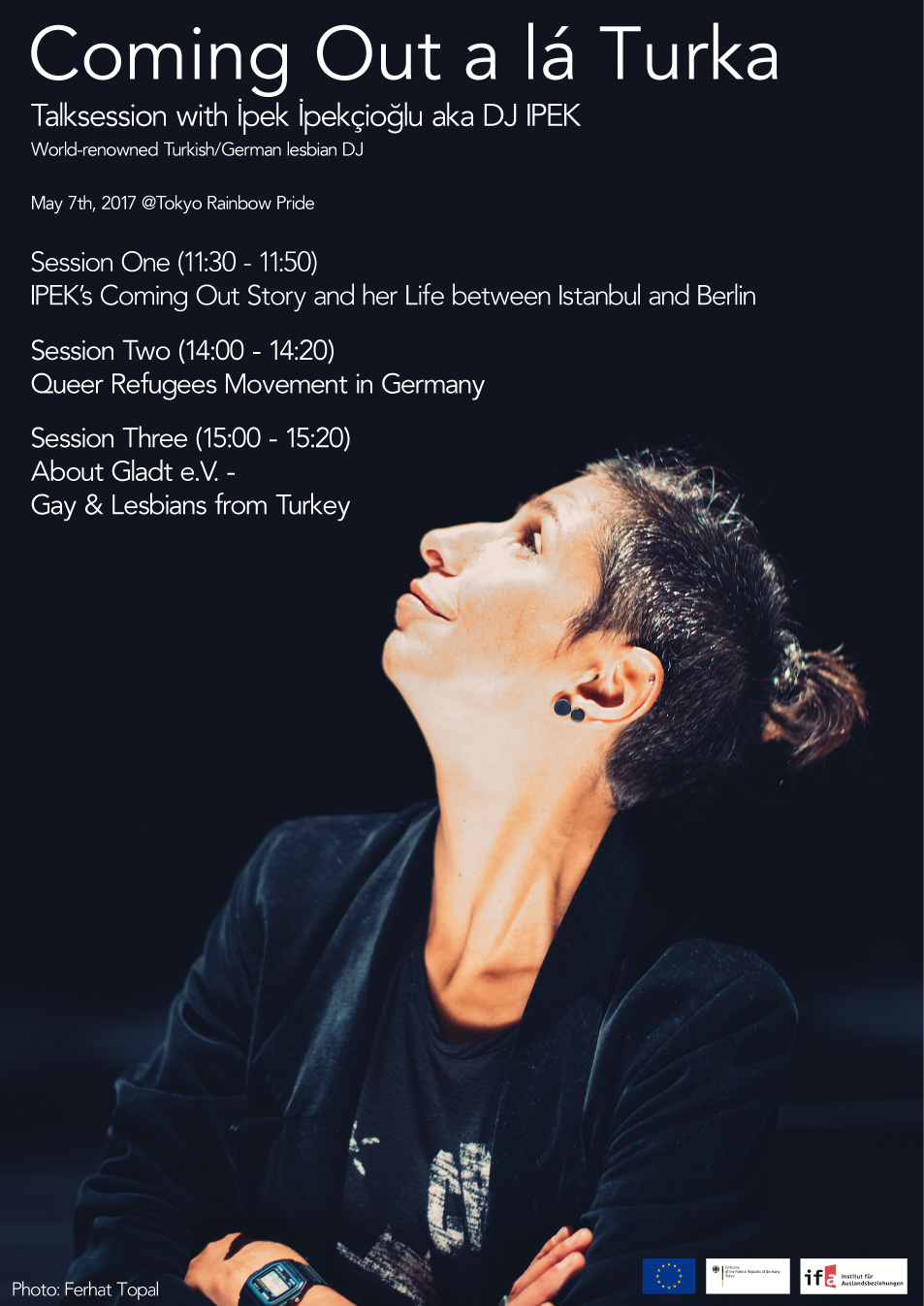 You can catch DJ Ipek at one of these several events around Japan over the next couple of weeks:
04. May 2017 / Nagoya@Club About
4-13-3 B1, Naka-ku, Nagoya,
Aichi 460-0008
Title/Topic: Impact and reflection of identity and migration in music
Format: Workshop (20:00 -21:30)
07. May 2017 / Tokio
Yoyogi-Park
Tokyo Rainbow Pride EU-Booth
Title/Topic: Coming out Stories
Format: Lecture
Session 1 (11:30 -11:50/11:55)
– Ipek's Coming Out Story and her life between Istanbul and Berlin
Session 2 (14:00 – 14:20/14:25)
– Queer refugees movements in Germany
Session 3 (15:00 – 15:20/15:25)
– About Gladt e.V. 
08. May 2017 / Tokio @ JDG
160-0016 Tokyo, Shinjuku-ku,
Shinanomachi 18, Maya Shinanomachi Nr. 2
Title/Topic: Berlin – City of Diversity
Format: Lecture (19:00 – 21:00)
09. May 2017 / Tokio@Sophia University
7-1 Kioichō, Chiyoda-ku, Tōkyō-to 102-0094
Title/Topic: Identity and Diversity – Living as a minority
Format: Lecture (11:00 – 12:30)
10. May 2017 / Tokio@ Tokyo Metropolitan High School
1 Chome-12-13 Higashikanda, Chiyoda, Tokyo 101-0031
Title/Topic: Migration in Germany
Format: Lecture (16:00 – 17:30)
Please note that this event is a closed session!
11. May 2017 / Tokio@DIJ
Jochi Kioizaka Bldg. 2F, 7-1 Kioicho Chiyoda-ku, Tokyo 102-0094
Title/Topic: Living diversity: A comparative view on identity, gender and sexual orientation in contemporary Japan and Germany
Format: Panel discussion (18:30 – 20:00)
Panel members:
Ms. Ipek Ipekcioglu
Ms. Akiko Shimizu
Mr. Tomoya Hosoda
12. May 2017 / Kyoto@Doshisha University
Kamigyo Ward, Kyoto, Kyoto Prefecture 602-8580
Title/Topic: Identity, Diversity and Migration
Format: Lecture (16:00 – 18:30)
13. May 2017 / Osaka@DZGO Corporation
1-14-4 Awaza Nishiku Osaka,
Title/Topic :"Homosexuality and Migration"
Format: Lecture (13:00 – 14:30)
DJ Gigs:
https://www.facebook.com/GermanyInJapan/posts/751614081668371
Playlist:
https://www.facebook.com/GermanyInJapan/posts/751615071668272